In one look
Expert assessment
Advantages
Very easy to use interface
Drag and drop album covers
You can add tags and other information
The inconvenients
New changes are not saved automatically
Our verdict
Mp3tag helps you add missing tags and album art.
Sometimes when you rip a CD on your computer to make MP3 backup copies, the ripping application neglects to export the tags and album art, leaving you with a messy file. If you've ripped a lot of CDs, all without their ID labels and album covers, then retyping them can be a tiring and tedious process. The free Mp3tag program is here to make this process much faster and much easier.
Mp3tag 2.54 is absolute fun to use, and my MP3 files are finally starting to look half-organized. What Mp3tag does is give you an extremely easy to use user interface where you can add the information you need to identify the file. You can also drag and drop album art with your mouse directly onto the MP3tag app and they will attach automatically.
The tags, which you can edit, include the song title, artist, album, year it was released, that particular song's track number, and genre. When an album art is attached, you can change the aspect ratio in case it is not the right size or if it is distorted.
You can really save time with batch editing. Use your mouse to select as many files from the folder as you want and add info and album art to all of them at the same time. Remember to click on the Save button afterwards, otherwise all the changes you made will be lost. This is one of the very few disadvantages of Mp3tag: no automatic real-time backup by the application. You have to push the button yourself and if you forget… oops, back to square one.
But if you use it right, batch editing can make all the difference. By highlighting all the files at once, I was able to find tags and album art, add and save them in just under 30 seconds. This is for a standard 12 track album. If you did it by hand individually, you would have the chance to make one file every 30 seconds, not to mention 12 at a time.
Features continue: generate playlists, generate HTML, RTF, or CSV reports showing a list of all the files you currently have in MP3tag, as well as support for iTunes-specific tags like media type or files. TV show settings. The jewel in the crown, as far as I'm concerned, is MP3tag's ability to search for external sources like Amazon USA, Amazon Germany, and two other sources called Discogs and Musicbrainz. By entering search terms in the box provided, Mp3tag will go to the source (like Amazon) and bring back the relevant tags and album art for you. If you like it, you can click "OK" and everything will be inserted automatically for you.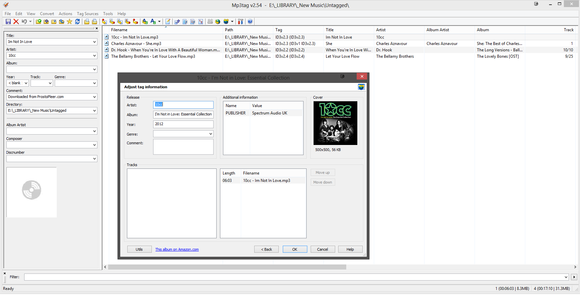 Mp3tag program that MP3 collectors should have on their PC by default. It's free and it's easy to use. The days of messed up MP3s are long gone, thanks to babies like this.
To note: The Download button on the Product Information page will download the software to your system.